The Great Bible Adventure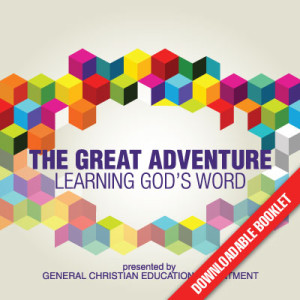 Over the last few years the CE department has been thriving towards three unique initiatives- Biblical Literacy for Children, Biblical Worldview for Students, and Discipleship for Adults.  We have chosen to focus on Children's Biblical Literacy through several methods, the first of which is "The Great Adventure" booklet which is a general guideline for what the CE Committee feels should be known and understood by children before reaching the 7th grade.  You can download the booklet here and begin using it as a tool to make sure the children in your local church are getting a well rounded education about the stories of the Bible
You may also request booklets be sent to your church, just send us an email with your mailing address and number of booklets requested and we'll send them out!
DOWNLOAD THE BOOKLET
Lending Library
One of our primary goals is to assist local churches by providing valuable resources that will help in sharing the message of Jesus Christ in an effective and meaningful way. We have a broad collection of audio, video, and reading material that can be requested for use in your church. If you know of a resource that you would like to use, but don't see it listed, let us know! We are always looking for new resources to add!
VIEW THE COMPLETE LIBRARY LIST
VBS – The Perfect Ten
The files below require Adobe Acrobat Reader to view.
Young Adult/Adult Current Events Curriculum
We have curriculum available for SS teachers, small group leaders, or anyone else interested in leading a discussion about biblical perspectives on current events. You will receive a leader & participant guide which will include everything you need including questions to help start the discussion and Biblical references to anchor your learning. If you are interested in this material, contact us
Online Resources*
*some content may not be in agreement with CCCU theology and beliefs and are therefore not endorsed by the CE Department. Please use your own discretion when choosing resources